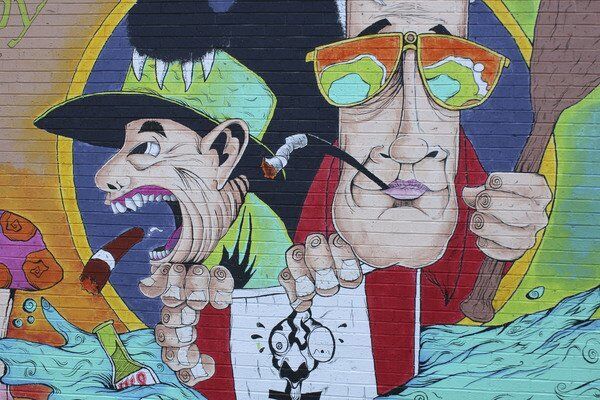 Kentucky's Vibrant Mural: A Journey Through Iconic Tales and Colorful Characters
Kentucky, a state steeped in rich history and vibrant culture, has recently unveiled a captivating mural that celebrates its essence in a kaleidoscope of colors. This mural, lovingly crafted in honor of the Botany Bay store's 25th anniversary, is a heartfelt gift to the community and serves as a visual ode to everything that represents the Bluegrass State. From indigenous bats to Kentucky Fried Chicken, bourbon, and iconic personalities, this mural is a testament to the diverse tapestry of Kentucky's heritage.
1. A Gift to the Community
The Botany Bay store owner, Ginny Saville, an alumna of Eastern Kentucky University, spearheaded the creation of this remarkable mural. Her journey from humble beginnings, starting the business out of her car with a mere $3,500, has led to a successful establishment that has become an integral part of the community. This mural stands as a symbol of gratitude and love, giving back to the city that has been a significant part of Saville's life.
2. Honoring a Visionary: Louis Gatewood Galbraith
Among the figures depicted in the mural is Louis Gatewood Galbraith, known for his multiple attempts to run for governor and his unwavering advocacy for the legalization of marijuana. The mural pays homage to the friendship between Saville and Galbraith, which began when she purchased industrial hemp goods from him to kickstart her business. Galbraith's legacy in the cannabis movement and his perseverance in the face of ridicule make him a poignant presence in the artwork.
3. An Artistic Collaboration
The creation of this masterpiece involved a talented team of artists. Sean Dietrich, the main artist, worked alongside Fraggle Dee, a self-proclaimed "art kid" who is passionate about her craft. The collaboration between these artists brought an array of unique perspectives and techniques, resulting in a mural that beautifully blends creativity and skill.
4. A Glimmering Touch
As night descends, the mural takes on a magical quality. A small portion of the artwork glows subtly, adding a touch of enchantment. The drug paraphernalia held by Saville's figure in the mural has been adorned with green paint mixed with extra-fine glitter, creating a sparkling effect when illuminated by street lights. This clever touch adds a layer of intrigue to the artwork.
5. Fear and Loathing in Kentucky
The mural has been affectionately dubbed "Fear and Loathing in Kentucky," a localized tribute to Hunter S. Thompson's iconic work "Fear and Loathing in Las Vegas." Thompson, a prominent journalist known for his Gonzo journalism, was born in Louisville and is featured at the center of the mural. This creative spin pays homage to both Thompson's legacy and Kentucky's own colorful narrative.
6. Symbolism of Horses and Bourbon
Horses hold great significance in Kentucky's cultural heritage, often referred to as the "Horse Capital of the World." Dietrich's masterful strokes bring to life the spirit of bourbon horses, elegantly fusing equestrian grace with the state's famous liquor. The blending of these two elements results in captivating and dynamic visuals.
7. The Tale of the Cocaine Bear
The mural also features the infamous "cocaine bear," a real-life story that captured imaginations across the nation. In 1985, a 175-pound black bear was found dead in Chattahoochee National Forest, alongside a duffel bag containing 75 pounds of cocaine. The mural pays tribute to this peculiar tale, with the bear's nose playfully smudged with bourbon-infused paint, a fitting nod to both the bear's adventure and Hunter S. Thompson's fondness for the spirit.
The newly finished mural at the Botany Bay store in Richmond, Kentucky, is more than just a work of art; it is a vibrant canvas that weaves together tales of the state's past, present, and colorful personalities. This visual celebration encapsulates the essence of Kentucky, offering a glimpse into the heart and soul of a state with a rich and diverse cultural heritage. The mural stands not only as a beautiful piece of artwork but also as a testament to the power of art to unite communities and celebrate shared histories.